-20 %
Evolution Body L-Glutamine 500gr
Availability:

In Stock

Product Code:

8005
Add to Cart
Whether your goal is to increase athletic performance, boost metabolism, improve recovery or build muscle, research shows that L-Glutamine is a must-have supplement.

Glutamine plays a key role in protein metabolism and anticatabolic muscle protection. It also helps the body to secrete higher amounts of growth hormone, which means increased fat burning and muscle growth.

The anticatabolic action of glutamine prevents the amino acid cleavage into the muscle during training. Glutamine's anti-catabolism ability is essential for athletes who follow a reduced calorie diet because loss of muscle mass is very common in this situation and glutamine can scale it down.

L-Glutamine supplementation before and after training is very important as glutamine levels are greatly depleted in your body during intense workouts.Glutamine can be mixed in water, juice or electrolytes and will also enhance the athlete's immune system, which normally weakens immediately after training. Glutamine is a powerful anti-oxidant that slows down the aging process.

Evolution Body L-Glutamine is of excellent quality and has become the number one choice for athletes and gym-goers.
Recommended dosing:

Each serving is equivalent to 5g of product which corresponds to a teaspoon. As a dietary supplement, take 1 or 3 servings daily, mixed with water, preferebly on an empty stomach or as directed by a health care professional. Take one serving immediately after exercise, one serving between major meals and one before nightrest.

DISCLAIMER:

Τhis product is not categorized as a herbal medicine, it is sold as a food supplement. The statement contained on this label does not imply that this product has any medicinal properties, use or efficacy. This product should not be used as a substitute for a varied and balanced diet and do not exceed recommended daily dose. Store in a cool dry place and keep out of reach of young children.
ALLERGEN WARNING:

This product is manufactured on equipment which processes products containing nuts, milk, gluten, egg, soya and peanuts.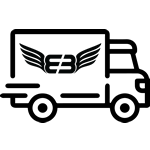 Shipping & Delivery
Shipping Information

Payment Info
Possible payment methods: