-20 %
Evolution Body Prime Whey 2.250kg 8033
Availability:

In Stock

Product Code:

8033
Add to Cart
Evolution Body Prime Whey has the highest Biological Value and protein efficiency! PRIME WHEY encourages muscular development and gives you strength while increasing your capacity for recovery after a tough and intense workout.

The root of many health problems can stem from poor dietary habits that lead to various nutritional deficiencies and this is the case where Prime Whey comes to support and shield your immune system.

Our body relies on protein to repair existing muscle tissue that is undergoing constant breakdown from day–to–day training while gradually replacing it by creating new muscle protein strands and this is why it requires nutrients that we should be able to get from a post workout supplement.

The unique combination of Glutamine and BCAA amino acids contained in one dose of PRIME WHEY enhances the immune system and reduces catabolism after a high-intensity workout. BCAA amino acids also reduce muscle fatigue from aerobic exercise.

One of the most important properties of PRIME WHEY, according to recent research, is the increase of IGF-1 (a hormone that is mainly produced in the liver by the conversion of HGH). IGF-1 actively contributes to body fat reduction, lean muscle mass increase, skin quality improvement, more restful sleep and finally muscle recovery after injury, intense physical activity or fracture.

Prime Whey is ideal even for athletes who suffer allergies or intolerance to lactose, since it contains only a minimum amount of lactose. The WHEY protein can be consumed after training as well as at any other time of the day and before bedtime.
Recommended dosing: As a dietary supplement, take 1 to 3 servings of 30g (1 scoop) daily, mixed with water or milk.
For detailed instructions, consult the table below.

DISCLAIMER:

Τhis product is not categorized as a herbal medicine, it is sold as a food supplement. The statement contained on this label does not imply that this product has any medicinal properties, use or efficacy. This product should not be used as a substitute for a varied and balanced diet and do not exceed recommended daily dose. Store in a cool dry place and keep out of reach of young children.
ALLERGEN WARNING:

This product is manufactured on equipment which processes products containing nuts, milk, gluten, egg, soya and peanuts.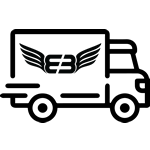 Shipping & Delivery
Shipping Information

Payment Info
Possible payment methods: